Full Name: Evelyn Celestia Rose.
Aliases: Eve, Evy, Eevie, E, Lynn, Lynnie.
Birth Date: June 30th 2049
Age: 97 years old (legally 27 years old)
Sexuality: No specific preference, although she prefers women over men.
Race: Time Lord/Human Hybrid.
Smoke/Drink/Drugs?: Yes, rarely, rarely.
Medication:
-Seroquel XR: 300mgs at night.
-50mgs an hour before bed
-Lamictal: 250mgs in the morning.
-Lithium: 250mg at night and 125mgs in the AM.
BACKGROUND
Evelyn's mother was a Time Lady, who was involved in a one night stand with a human male. Since the two were drunk, they forgot about any use of protection. So the morning after, the man realized what had happened, and ran like hell. The mother decided to keep her child, and so, Evelyn Rose was born in the on a Wednesday in 2049, May 12th to be exact. Shortly her eightieth birthday, the two moved from their current Ireland, to 1980's England. Together, they created false identities, and began to live their lives in the new (or old) time period.
Her mother continued to raise Evelyn the best she could, she did not teach her much about the Time Lords. Although she did teach her about time, and space. The only time she told her daughter anything about the Time Lords was that when she left the planet, the civilization was in the middle of a war with a race called the Daleks, saying that Evelyn's aunt, half-sister, and her whole family were killed by these beings. This is the only time her mother mentioned anything about the Time Lords. Evelyn asked once about the race after that. In response, her mother told her that the information would not be useful, for the civilization is doomed and will be forgotten in time.
On a year later, she was forced to hide after someone broke into their house. Soon after she dialed 911, Evelyn heard screaming, the shattering of glass, and banging, and then silence. She came out of the cupboard she was hiding in after the stranger bolted out the door. When the police arrived, they discovered Evelyn covered in blood, and asleep with her dead mothers arms wrapped around her. Soon After the horrifying incident, Evelyn was diagnosed with Major Depression Disorder and after an attempt on her own life, was sent to a mental institution for her own safety. Although, after her third suicide attempt, the doctors changed their diagnosis to Bipolar I Disorder when the antidepressants took no effect, and Evelyn told her therapist that she had begun to see her mother and a band of "monsters". She was then transferred to the Intensive Care Unit in the hospital, and she remained there for about 10 years.
Evelyn has been living in the institute for more than 15 years. Staff know that she isn't fully human, and due to their love for the girl, they decided not to report her to NASA or Torchwood or wherever one would report an extra terrestrial being. Evelyn has made huge progress through therapy and with various medications, and is allowed to be let out of the institution with a curfew. Her therapist and other doctors predict that she will be sane enough to be released back into society on her own in Late June or Early July.
PERSONALITY
Evelyn, at least Evelyn, is a caring, bold, and lively soul. She has a tendency to be playful and slightly inconsiderate and impulsive, sometimes she ends up going over the edge with her rudeness towards others. She rarely ever apologizes, and if she truly apologizes to you, she means it. Evelyn's most recognized trait is her sense of curiosity, which with some, can be mistaken for bravery, fearlessness, or stupidity. Although, her most noticeable flaw, besides her tendency to be rude and inability to take some things seriously, is said to be her temper, her ability to hold grudges for insane amounts of time, and her slightly aggressive side. If she doesn't like someone, she'll let it be well known to not just the person, the whole world. In addition, if that being does even the smallest thing to irritate her, she will end up wailing on them, verbally and physically.
Evelyn, during one of her episodes is almost the complete opposite of her true self. Extremely selfish, violent and ruder than ever. When she's having an episode, she refuses to eat or sleep, and her optimism changes to extreme pessimism. If the episode is bad enough, she locks herself in her room, barricading the door so the staff of the hospital can't come in. These episodes last a few hours. Which is an improvement because during her first years at the institution, they used to last for weeks, even when she first began taking her medication.
INCARNATIONS
First
The Child

FC: Hannah Murray
Second
FC: Lyndsy Fonseca
Third
FC: Sophie Turner
Fourth
FC: Allison Mack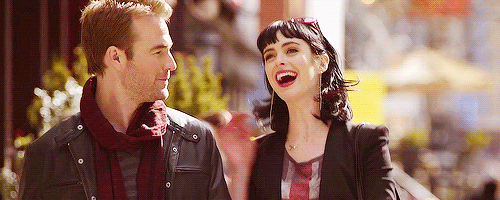 Fifth
FC: Krysten Ritter
Sixth
FC: Amy Acker
Seventh
FC: Kaya Scodelario
Eighth
FC: Bridget Regan
Ninth
FC: Felicity Jones
Tenth
FC: Stana Katić
Eleventh
FC: Katerina Graham
Twelfth
FC: Ksenia Solo
Final
FC: Sarah Rafferty